Show at MoMA PS1 Is a Must-See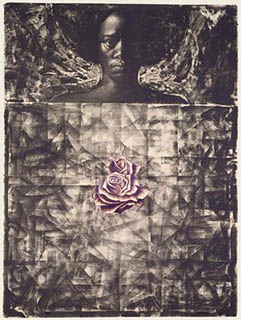 "Now Dig This! Art and Black Los Angeles 1960–1980," is at PS1 in Long Island City until March 11, and I think people should see it. It's a chance to meet members of a creative community working at a momentous time, and though my experience is very different, I felt I was meeting my own history in the work of these artists. There is a wide range of styles, representative of everything you could find in America during those two decades, and the themes range from the personal to the political, from abstraction to the earthy and gritty. I was affected by the show's many powerful portraits.

"Love Letter #1" (1971), by Charles White, is a portrait of imprisoned activist Angela Davis. The representation of her grieving face, half in shadow, surrounded by the dark halo of her hair, is dignified and stirring. The artist places her behind a stark rectangle that walls off her figure, but at the center he has put an offering of pink-lavender roses radiating an intense and faceted light. The American critic and philosopher Eli Siegel stated: "All beauty is a making one of opposites, and the making one of opposites is what we are going after in ourselves." I am learning that a portrait is always a relation of inside and outside, depth and surface, hidden and shown, as we are. These roses, while outward, stand for something deep within, including a woman's hope to be seen truly.

This artist has a desire to look for meaning that I respect very much.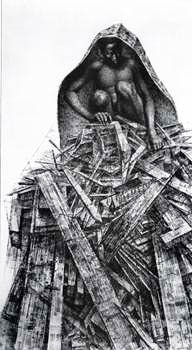 His exquisitely drawn "Birmingham Totem" (shown right, Charles White, 1964) is a portrait of a young man thoughtfully examining the rubble of church building destroyed by racial hatred. His only clothing is a hooded cape in rough material, and he is holding a plumb line -- barely visible, but there. Within the debris is a structure, and in the work there is a feeling that something new may arise out of this tragedy.
High on the wall of an adjoining gallery, "Bag Lady in Flight" (1970's) by David Hammons may not be a portrait in the ordinary sense, but it does represent the inner soaring of a person in a grand way. This elegant work with a dominating S-curve, constructed from brown paper shopping bags, grease, and hair, simply must be seen.
The assemblage galleries in this exhibition are full of treasures and surprises. In the stunning and mysterious "Black Girl's Window" (shown below, Betye Saar, 1969), a young woman presses her face and hands toward us and against the lower pane of an actual window frame in stark anonymity. However, points of light dance around the palms of her hands and on her fingertips, where they meet the world, and her eyes, like two dark marquise-cut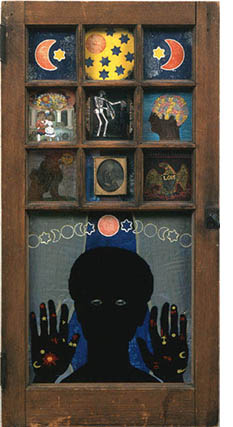 crystals, look out. In the upper panes of the window are images drawn in darks, rich gold, and vermilion, standing for the world that is within the thoughts this girl and at the same time outside of her.
At any time, a person could ask: "Will anybody ever know me for who I am?" Then, simultaneously, a person can want to hide, be secretive, apart from the world. I see the two things going on in this work, as they go on in me. One of the great things I am learning from the Aesthetic Realism of Eli Siegel is that every work of art and every person can teach us something about ourselves.
There are 33 artists represented in the show, and many ways of getting to MoMA PS1. Whether you go via the E, the G, or the number 7, the B62 bus or the Q67, whether you walk, bike, or drive there, I recommend going to PS1 as soon as you can. I think you'll be moved, as I was.
Show More...
Look Again: ACM Collection Inspires the Boston Printmakers
It is exciting to see the work of artists
such as Rembrandt van Rijn, Edward Hopper, Ando Hiroshige, Kathe Kollwitz, and Jack Levine ("The Prisoner," aquatint, shown right) and the expression they have encouraged in a group of contemporary artists. Each of the participating artists has written a personal statement to deepen the experience of viewing their work. As I read these statements, I kept thinking of a poem, "The Print," by Eli Siegel, which I love:

Can dark and light
Show wrong and right?
—And round and straight
Show love and hate?
—And dim and clear
Show hope and fear?
This rich show at the Art Complex Museum in Duxbury is open until September 9, and I hope people will go to see it. They might be inspired to become print collectors, or even – printmakers!

Show More...



Blockbuster film popular for ethical reasons


As Susan Sessa's rave review so rightly says, the popularity of Avatar has a reason that goes way beyond its dazzling visuals. Avatar meets two things in American culture now, 1) the anger Americans have with runaway acquisition — that is, corporate profit economics, and 2) the hope in America to have a respectful way of seeing the earth and what is in it.

In a recent class at the Aesthetic Realism Foundation in New York City, taught by anthropologist Arnold Perey, we were thrilled as we looked at this popular film in a detailed, scholarly way, learning through the principle: "The world, art and self explain each other; each is the aesthetic oneness of opposites."

In the opening scene, set 150 years into the future on the planet Pandora, we meet paraplegic ex-Marine grunt Jake Sully. Medical science in this time has the means to repair his severed spinal cord, but like so many millions of Americans today, Jake has no medical insurance. He has been promised new legs if he takes the place of his twin brother, a scientist killed in action. Undertaking a dangerous mission, Jake inhabits a body, an "Avatar", whose human DNA has been merged with that of the inhabitants of Pandora. These people, the Navi, have been painted in the briefing sessions as hostile to humans. Yet the DNA of these two species gets along. Is this an indication that the world of Pandora is friendlier than we think? Jake is a twin, and twins in fairy tales are known to represent dualities. Did Jake's brother fail in his mission because he lacked the desire to know? We learn along with Jake that we are on an intelligent planet, among a caring people intensely critical of "the sky people", humans, who "do not learn to see." With their encouragement and criticism, Jake does learn, defies his commander, and joins the fight to save the Navi people and resources of Pandora. While there is much more to say, the change represented in Avatar is like the change that began in me in 1980 when I met Aesthetic Realism and learned that I could honestly like the world through its aesthetic structure.

In her important review, Susan Sessa rejects acquisition as she writes: "Let's forget about all the money and time it took to make, or how much money it is still bringing in . . . This film has full-of-goodness heart and deep meaning soul."

It has! And after your readers see Avatar, for the first time or the second or the third, I hope they will call (212) 777-4490 or go to

www.aestheticrealism.org

to learn more. The battle between acquisition and knowing goes on in each one of us. The future of our planet and our own happiness depends on making the right choice.

Show More...